"A FAMILY AFFAIR!"
It has been a long journey but a father and son team are finally back behind the wheel of their just finished factory 100M. The car was purchased in 1965 by Ken Sr. just south of Milwaukee and the seller mentioned it was "special" at the time. Ken Jr. remembers that first ride home all curled up in the footwell (most likely to stay warm)!
Eventually the Healey got parked in the yard and a tree grew up around it over the years. Ken Jr. took a job as an airline mechanic and research revealed the car to be one of the 640 factory built 100M cars. That discovery was both a blessing and a curse - the restoration took a more serious course. Both father and son worked for years getting the car to the running chassis stage - countless hours of research and disappointment with some purchases took a long time.
Enter Fourintune who did the final body repair, paint and assembly this past year. Not our normal course of action but Ken Jr. was keen to get the car finished for his father while he can still enjoy the Healey he purchased so many years ago.
The 100M will be under our tent at the vintage races this July at Road America and will be downtown Elkhart Lake on Saturday for the street car concours. With the big driving lights and no bumpers the car will certainly turn heads and hopefully get the judge's nod!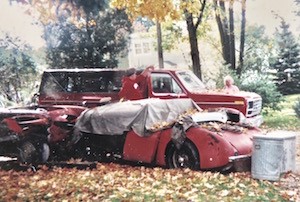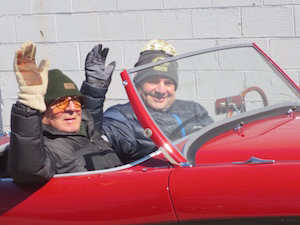 Sunny but a bit chilly for the first drive back home to south Milwaukee.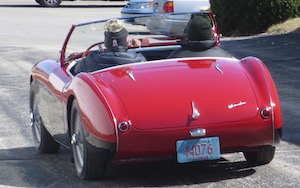 Without bumpers, the Healey's graceful lines really look sleek. At least the numbers on the license plate match, but it does interrupt the look!