"IT'S A BUSY SUMMER"
Certainly here in Wisconsin, we went from winter in April to summer in May!
This made the driving season a bit shorter, but now with the July 4th weekend fast approaching - TONS of car events are upon us. From car shows to scenic drives and racing venues at Road America, every week has something for vintage cars.
The racing Healeys from Minnesota will be running in force at the WeatherTech International Challenge - July 18-22nd. Four big Healeys all usually run into town on Friday night for the race car concours after a busy day of qualifying - to throngs of people filling the streets. Always crowded but a very fun time!
Satuday night the street cars put on the show and Fourintune will have a new beauty competing. One of the rarer Healey models, a 3000 MK II BN7 - a two seater with triple carburators. Only 355 of this model were produced and this particular car sports a totally restored factory hardtop finished in Old English White over Healey Blue.
Road America does offer discounts on tickets purchased in advance, so check out the provisional schedule so you don't miss your favorite cars racing. There are twelve groups so they begin as early as 7:30 some days - Healeys are currently scheduled for 9:00 am on Sunday … one advantage maybe no oil spills that early?
Visit the Road America website for details! ROAD AMERICA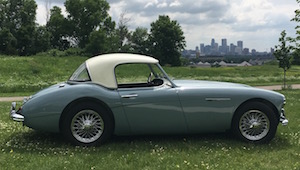 This Fourintune beauty will be surrounded on Saturday night in Elkhart Lake at the street car concours!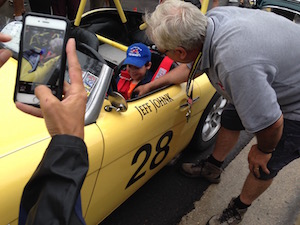 You have to love a Mom who lets her young son sit in a race car…and then films it even!