"Conclave in CA!"
Congratulations to Rogers and Lorraine who drove from Colorado to this year's conclave in their Fourintune restored BJ8! They hooked up with a group from Chicago and sped as a group all the way to Big Bear Lake, CA.
These are real driving enthusiasts who took 3rd in the Funkhaha and did the Poker Run which went to 7112 ft. elevation. They plan to be part of the Healey group headed to Europe later this year if covid restrictions allow.
There is a nice video done of the event that can be viewed here on YouTube.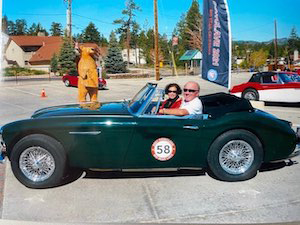 Rogers and Lorraine stop for the official photo in their BJ8 at this year's Conclave in Big Bear .