"HEALEYS AT ELVF AND GOG!"
The final race at Road America, the Elkhart Lake Vintage Festival, celebrated the 60th anniversary of Sprite production. They were EVERYWHERE - super turnout which pushed the Healey race group to nearly 90 cars! And if they were not racing they had traveled to come be part of the celebration.
The Minnesota Healey drivers were there in force and Jeff Johnk ran really well with a third place finish in the group 2 & 3D group race.The other Fourintune race car, #106, driven by Scott McQueen finished 7th in the group race with a fast lap of 2:54.411. Congratulations to surviving in the most traffic we have seen in many years for one race!
Later at the Gather on the Green, the three 100M's were staged together. Two were more recent Fourintune restorations and one we had worked on many years ago for the father of the current owner. Once again, the Sprites were out in full force for their "birthday bash." A great end to another vintage race season at Road America!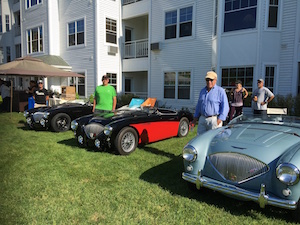 The three factory built 100M's with their owners pose for a group photo at Gather on the Green.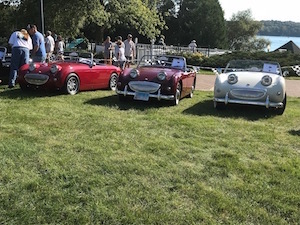 These three Sprites just look so happy!