"FOURINTUNE 100M's WIN BIG!"
A big thank you to all of our customers who wash, wax and then SHINE at the car shows by bringing home the trophies! The show season is in full swing and we are happy to report that two of our factory 100M restorations have won big.
First outing for Ken and his Dad at the British Car Field Day in Sussex, WI on father's day garnered not only the class win in the Healey group, but also BEST IN SHOW! The BCFD is a large gathering of all British Marques with nearly 300 cars attending in the city park of Sussex. The win made father's day extra nice since this 100M was a project that was started nearly 15 years ago and just finished this spring.
That girl, Lola, has done it again with a Best in Class win at the Alameda Point Concours. Acing out 12 other cars - which was a European mixed class - this factory 100M added another trophy for the display case. Thanks to Greg and Susan for taking the time to show this winning Healey once again!
These Healeys not only share factory 100M heritage, but also both sport the "bumperless/big lights look" which makes the lines of the early four cylinder just stunning. Both cars return to the concours field in a few weeks - good luck and thank you for your efforts!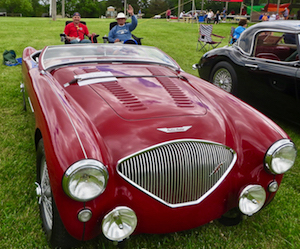 Ken and his Dad take a break at the show where their 100M took a class win and also BEST IN SHOW!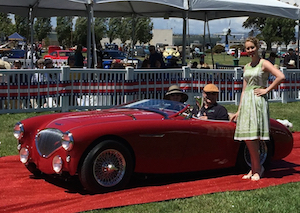 Greg and Susan accepting the trophy for "Best in Class" at the second annual Alameda Point Concours held on the parade grounds near the Naval Air Station in California.