"BACK TO TOWN!!!"
We are very happy that Road America and the village of Elkhart Lake were able to announce that the July vintage race (the WeatherTech International Challenge) will be having the concours back in the village.
Friday night the race cars drive on the streets into town while the spectators lining the streets cheer and wave them by. The cars are judged while big crowds gather for a close look at historic cars that have raced at the track for years.
Saturday evening the Sports Car Concours d'Elegance starts at 6 pm, but try to get there earlier before the crowds swell. Fourintune will have Healeys entered both nights so be sure to look for us! For details go to the WIC event on the Road America website: WeatherTech Challenge.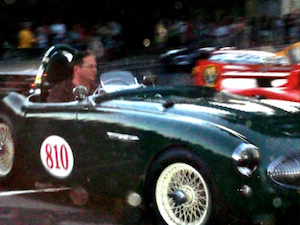 Ihe Jackie Cooper 100S exits the race car concours years ago driven by Andy Seidel of Triple S racing.