"CONCLAVE & ELVF WRAP UP"
The MN club did an over the top job with this year's conclave in SD. With a near record number of registrations, the group was spread over four hotels thru out the historic town of Deadwood.
A parade of Healeys from the rodeo grounds up to Lead ended on Deadwood's main street where the Healeys parked for a popularity contest that raised money for the local Boys and Girls club. Hats off to Jeff Johnk and all the MN members who made this event happen seamlessly!
The MN "Racer's Edge" panel discussion sponsored by Fourintune went well with some fun stories shared by the drivers. Then as the conclave dust barely settled — they were headed east to get over to Road America for the last vintage race, ELVF.
Unfortunately, the storms from the west were already there and rain was keeping many cars inside their trailers. Sunday it was dry and the five MN Healeys were all on track for the Sheldon Cup. Johnk had the fastest time at 2:51 with McQueen right behind at 2:52. After running conclave for over a week, Eileen was right on their bumpers with a fast lap of 2:56. Both Lumbard and Powell finished just over the 3 minute mark.
Until next year!!!!!!!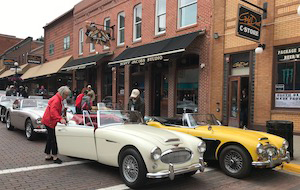 The historic main street in Deadwood was filled with Healeys on Sunday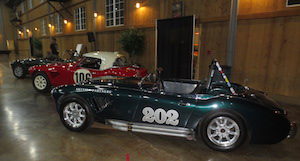 Three race cars at rest during the panel discussion