"FOURINTUNE RACE CARS!"
It is always a pleasure when paging thru VINTAGE MOTORSPORT magazine's "ANNUAL" to see race cars that you have built included.
An excellent photo of Jeff Johnk's yellow 100-6 at speed during VSCDA's ELVF race from last September is on page 98. He had a fast lap of 2:51.248 in the Sheldon Cup race which combines 5 different race groups.
For outstanding photos of the vintage races, concours and rallies get a copy of the 2020 Annual.
Visit www.vintagemotorsport.com and go to the "shop" section for the annual and backissues of the magazine.


Jeff Johnk navigates the 4 mile course at Road America during the September vintage race, "ELVF".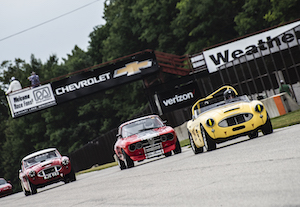 A great photo by Jeff's daughter, Jessica Johnk, of three cars running just under the bridge at Road America. The red Healey is driven by Scott McQueen - it is #106, a car we restored for the 1990 Challenge series.