"FOURINTUNE IN AHCA CALENDAR!"
Congratulations to Mike Connly and Nancy Wagner whose photo of their 1960 BT7 was selected for the month of August in the AHCA calendar. The car was purchased in 1987 in MN and by 1990 was the car used in the local chapter's "Fox and Hound Rally" for the dating couple who married shortly afterward.
This Healey was successful in local rallies run by the MN Alfa Romeo club and once swept the beginner, oldest car and overall winner trophies. The Healey was restored at Fourintune in 2010 and the owners want to continue the rallies and driving on tours extensively.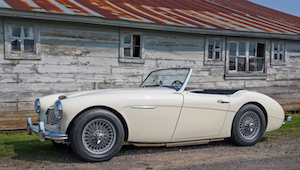 Looks like the building in the background could use some restoration work!