"FOURINTUNE AT THE MILWAUKEE CONCOURS"
Two factory built Austin-Healey 100M cars will both be shown at this year's Milwaukee Concours. The Concours circle, "The Cars of Donald Healey," is one of the features along with premium luxury, Ferraris and Milwaukee Mile race cars. In addition to the 100M cars, both an early and late 3000 restored several years ago at Fourintune will round out the circle.
This year's event will be combining the club day (formerly held on Saturday) with the Concours display on Sunday, August 5th at Veterans Park on Milwaukee's lakefront. In addition to the display on Sunday, there is a Motor Tour and the Style and Speed Social on Saturday. For more information and tickets visit the website at: Milwaukee Concours.
The two 100M cars appear quite different, one was restored in 2016 to concours standards and appears "as it left the factory." The second 100M has a more sporting look with the bumpers left off the car and big driving lights in front. In addition to the 100M Healeys, the circle will have a Silverstone, Sprite, BT7, 100-6 and two of the last model produced - and early and late 3000.
Please note the date change - this event was previously the end of August and now is the first Sunday, August 5th… you won't want to miss it!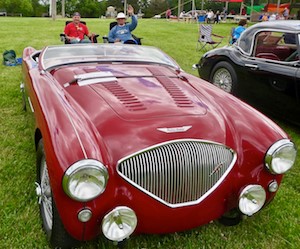 This factory built 100M will be at the Milwaukee Concours. Here Ken and his Dad enjoy British Car Field day where the Healey won BEST IN SHOW!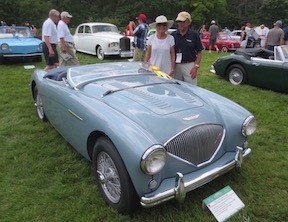 The Curtes winning with their gold level, award winning factory 100M at the Ault Park concours in Cincinnati.