Fourintune had all the racing Healeys head into town for the race car concours on Friday night. Mike Manser's green 100 took reserve in class 6. This was the first race at RA for his newly finished 1959 3000 which he brought up from Texas. Fourintune restored his chassis and got the body sorted before he took it back to get it running and finished.
Saturday night the street car concours had an entire Healey class (#5) and Mike Swanger's 1954 BN1 took first in class. Affectionally known as "the car with the dots," Mike used the car all weekend to drive back and forth each night - no trailer queen here!
Congratulations and thank you all for coming to this year's WIC race!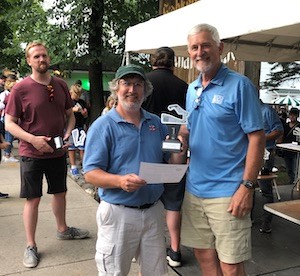 Mike Swanger accepts his first place trophy for his BN1 on Saturday night during the street car concours.